Interpretation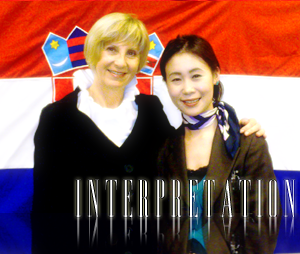 Lily's tranSupport conducts Japanese/English consecutive interpretation orders. We provide simple, polite and reliable support for those who request an interpreter for the first time.
Though we are based in Sendai city, interpretation orders both within Japan and from overseas are also negotiable. We don't charge extra on weekends or holidays.Please feel free to contact us.
Translation
We received an interpretation orders from many kinds of overseas media after the Great East Japan Earthquake, and traveled through the area together.
We accept interpretation requests for lectures and business meetings.
In addition to business interpretation, we provide written translations such as translation of research papers, official copies of the family register for visa applications and exchange letters, among other orders.


Charge
<<interpretation>>
We estimate expenses according to your purpose and budget. The standard charge for "Consecutive interpretation," "Whispered interpretation," and "Attending interpretation" are as follows.
Contents

Price

Meetings including professional elements, , business talks, and press conferences

Consecutive interpretation at broadcast etc. (whispered interpretation available on some occasions)

half a day:

40,000yen~

all day:

73,000yen~

Consecutive interpretation at a basic business talks and meetings

half a day:

32,000~

all day:

55,000~

Attending interpretation at exhibitions, welcoming, and sending off

30,000yen~

Long-term interpretation such as training lectures, etc.

I give a discount by a term and a place.
※attending interpretation…Supporting conversations and actions while traveling together.
※whispered interpretation…Being just beside the person needing interpretation, provided at the level of a whisper.
<<Translation>>
translation from Japanese to English: calculated by amount per letter
translation from English to Japanese: calculated by amount per word
Expenses are estimated after receiving the number of letters or words. Feel free to contact us.